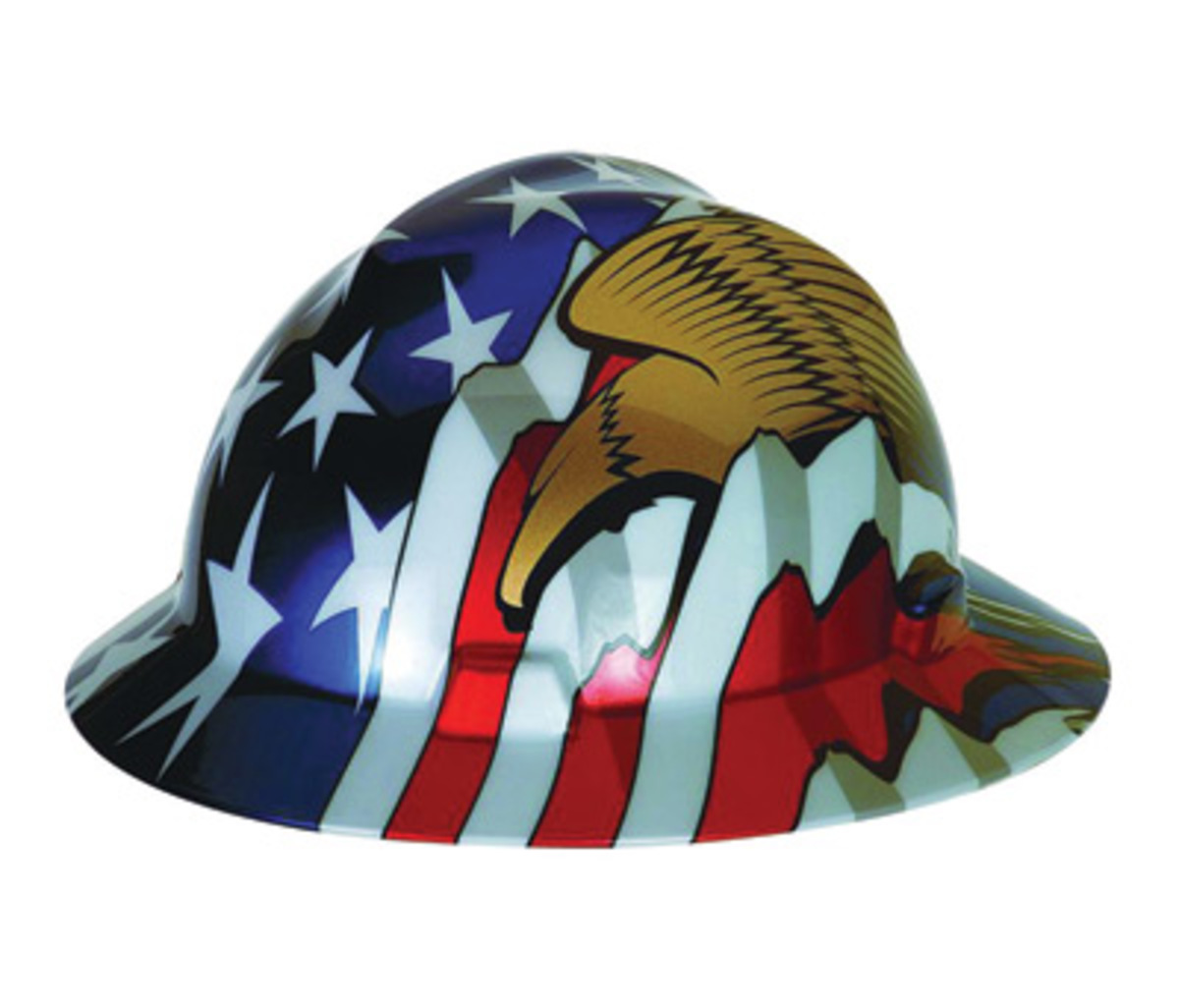 MSA Red White Blue Polyethylene Cap Style Hard Hat With Ratchet4 Point Ratchet Suspension
Part Number: 10071159SKU: MSA10071159
Add
$250.00
worth of items to your cart to qualify for free shipping.
Item Details
MSA V-Gard® Freedom Series™ Hard Cap features American flag and 2 golden eagles to express patriotism and provides industrial-strength head protection. Cap featuring bright design has superior shiny finish on the V-Gard® shell while providing attractive and elegant look. Cap is lightweight, durable and features Fas-Trac® suspension for optimum comfort. Cap featuring slots accept all MSA accessories and provide impact resistance with personal comfort. Logo can be custom-imprinted on top of the cap design. Cap is used in agriculture, asbestos abatement, chemical construction, domestic applications, electric utility, hazardous material applications, indoor air quality, medical applications, mining, nuclear applications, oil and gas industry, paper and pulp applications, sand blasting, sanding and grinding applications, spray painting, water/wastewater and welding applications. It features non-slotted full brim design and meets ANSI Z89.1 Type I Class E standard.
Features
Industrial strength head protection that's lightweight yet durable
Featuring Fas-Trac® Suspension and slots for better impact resistance and personal comfort
Available in a variety of designs including an extreme hi-viz option that meets the ANSI 107 standard for high visibility and a metallic gold option that can be used for ceremonial purposes and/or worn on the job
Custom imprinting and striping available
Hardhats with reverse donning logo may be worn backwards without voiding approvals
Head sizes 6 1/2 - 8"
Applications
Food processes
Asbestos abatement
Painting
Specifications
ANSI Z89.1 2009
CSA Z94.1 2005
Caution
Suspension and helmet sizes must match (example: use only standard size suspension with standard size helmet). Otherwise, helmet protection ability will be reduced and may result in serious personal injury or death
This helmet provides limited impact and penetration protection to top of head
This helmet is not specifically designed to protect against front, side, or rear (that is, lateral) blows
As an Industrial Protective Type I helmet, this helmet should be effective against small tools, bolts, rivets, and similar hazards. Some conditions can exceed this helmet's capacity to protect against serious injury or death. Avoid areas where chance of severe impact or penetration exists
CLASS E and G helmets provide limited electrical protection as outlined in ANSI Z89.1-2014 and CSA Z94.1-2015. Class C helmets provide no electrical protection