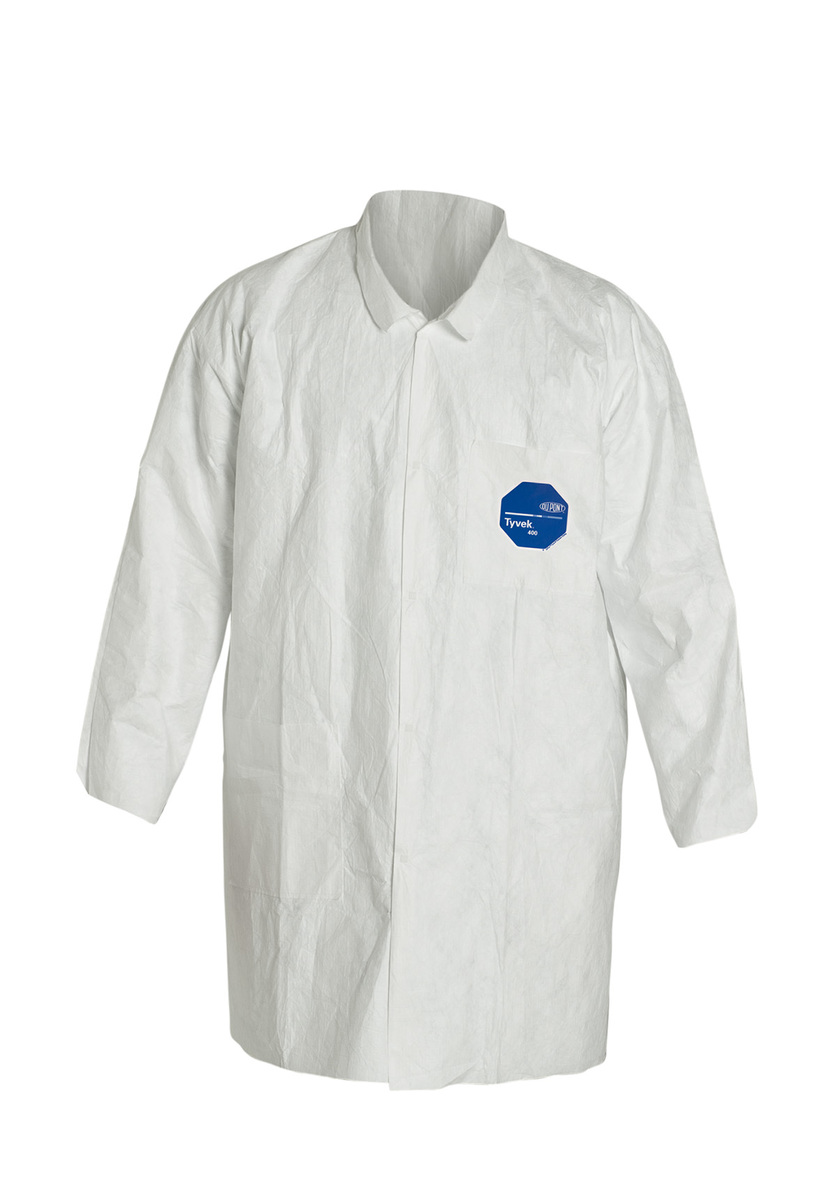 DuPont White Tyvek 400 Disposable Lab Coat. Case of 30
Part Numbers: D13398027, D13397451, D13397771, D13397540, D13397888, D13398012, D13493910SKUs: DPPTY212SWH2X00, DPPTY212SWHMD00, DPPTY212SWHLG00, DPPTY212SWHXL00, DPPTY212SWHSM00, DPPTY212SWH3X00, DPPTY212SWH4X00
Add
$250.00
worth of items to your cart to qualify for free shipping.
Item Details
DuPont™ Tyvek® White Standard Lab Coat is one of the many disposable clothing items sold at Autumn Supply. DuPont Tyvek 400 is made from a unique, nonwoven material that is created by flash spun high-density polyethylene provides an inherent barrier to small size particles. The durable fabric delivers consistently better barrier, even after wear and abrasion. Coat with a mandarin collar to fit tightly around hooded PAPR renders improved frontal protection. 41 3/4" Coat with 35 1/2" long sleeves and 28 3/4" wide chest fits chest measuring 44 1/4 - 47 3/4". It includes open wrists and 2 front pockets for holding writing instruments, small tools or parts. Coat with serged seam is suitable for heights from 6'0" - 6'4" and has 3 snap front snap closures for easy donning as well as doffing. Low linting coat remains static-free until laundered and provides protection against contact with chemicals or other hazardous material. It is ideal for use in lead and asbestos abatement/remediation, general maintenance/operations, spray-painting or general clean-up applications.
Purchase Labcoats in Bulk
Each case contains 30 lab coats. Choose from many styles of wholesale lab coats and counter coats in different styles and sizes. If you're looking to buy bulk lab coats at an affordable price, Autumn Supply has you covered. The DuPont Tyvek 400 is known to have a comfortable fit without being too tight. If you're looking to purchase labcoats in bulk, contact us today.
Features
An ideal balance of protection, durability and comfort
Comfort fit design allows for a greater range of motion and fewer blowouts
Breathable inherent barrier protection against hazardous dry particles, aerosols and non-hazardous light liquid splash
Excellent abrasion resistance stops particles down to one micron
Provides enhanced frontal protection
Mandarin collar designed to fit tightly around hooded PAPR
Open wrists
Two front pockets for holding writing instruments, small tools or parts
Applications
General maintenance/operations
Microcrystalline silica
Lead abatement
Environmental cleanup
Asbestos abatement
Agriculture
Food processing
Mold Remediation and oil handling
Spray painting
Specifications
ASTM D1777
ASTM D3776
ASTM D774
ASTM D5733
ASTM D5034
ASTM D257